A roundtable discussion held on August 29, 2023, at the University of Karachi, jointly organized by the Applied Economics Research Centre (AERC) World Bank and Pakistan Institute of Development Economics (PIDE) and. The objective of the discussion was to engage with the relevant policy experts and stakeholders at the provincial level to discuss the way forward ad pursue an actionable agenda for a bright future for Pakistan.
The roundtable discussion was on six different themes; achieving the fiscal sustainability, transforming the private sector, unleashing agri-food sector, achieving the sustainable energy, learning poverty and child stunting.
Prof. Dr. Khalid Iraq, the Vice Chancellor of the University of Karachi, delivered the welcome address. He appreciated the efforts of the organizers and consultation process involving the academia which would make the efforts significant to achieve the desired goals.
In her final and concluding remarks, Prof. Dr. Nooreen Mujahid, the director of AERC stated that the reform is not a one-time agenda, it is a continuous process, and we all need to encourage dialogue and conversation especially with the private sector and all other stake holders.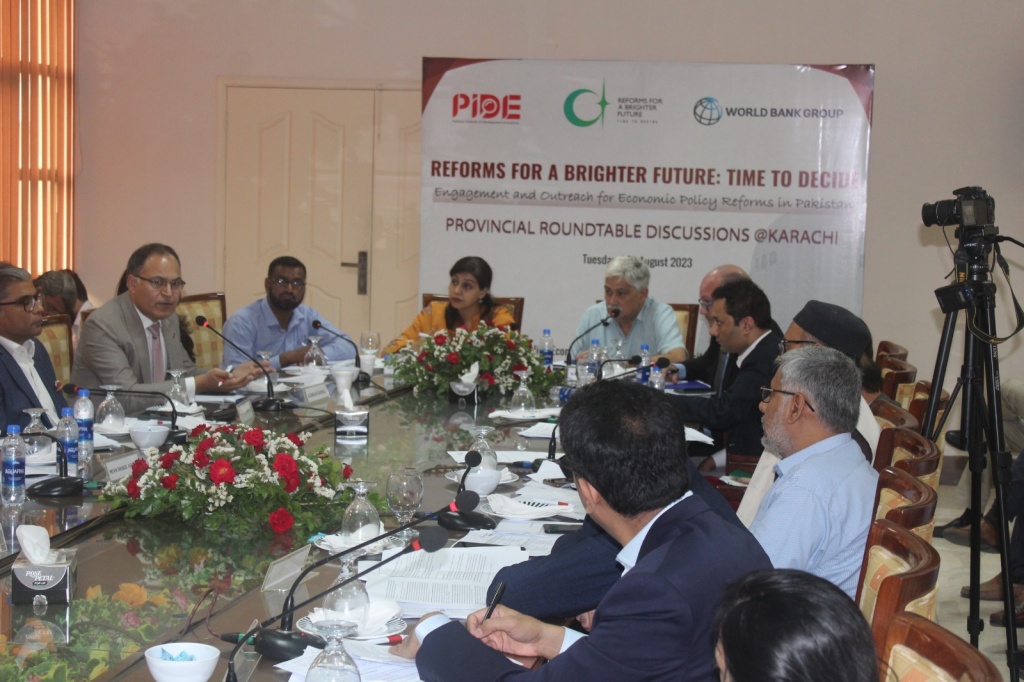 The discussion was attended by the well-known personalities from academia, private sector and the government of Sindh. From the government of Sindh, Mr Abdul Hameed Memon, Senior Member SRB, Mr Tameezuddin Khero, Secretary Investment, Representation from SDG Unit Sindh and P & D department. The prominent private sector participants were Syed Moonis Alvi, CEO-KE, Kamran Kamal, CEO-HUBCO, Athar Khawaja, CEO-Engro Power, Sheikh Imran ul Haque, Former MD & CEO, PSO, M.A Jabbar, Vice President FPCCI, Ehsan Malik, CEO-Pakistan Business Council, Haris Gazdar Director, Collective for Social Science Research, Asif Iqbal, MD, SPDC, Mazar Iqbal, UNICEF and Nawaz Shah Sind Abadgar Board. While from academia, Dr. Nadeem ul Haq and Dr. Nooreen Mujahid and faculty members from AERC and the Department of Economics also attended the event.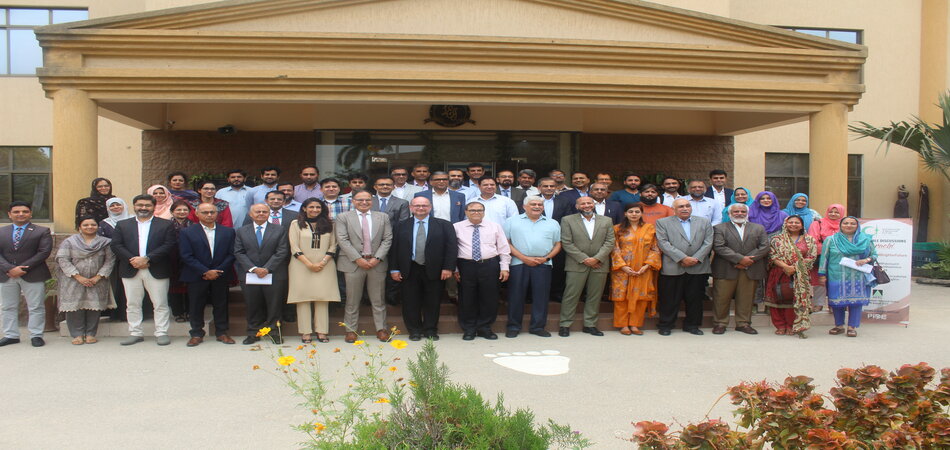 The experts and stakeholders added the following important recommendations:
Expand the tax base by including agricultural income.
Base subsidies on investments.
Limit tax exemptions to those with positive socio-economic impacts.
Government spending needs rationalization, balancing recurring and development expenses; recurring expenditure is 90% of the budget.
Government size (currently 5 million employees) requires rationalization.
Enhance accountability mechanisms for 190 State-Owned Enterprises, 122 Regulatory Authorities.
Formulate policies to attract private sector investments and ensure policy continuity.
Address the impending significant Gas Circular Debt.
Develop physical and socio-infrastructure for agro-based industries and agriculture sector supply chains.
Address educational and health facility gaps in certain uncovered areas of Sindh.
Emphasize preventive health measures, as 1 in 2 children suffer from stunting in Sindh.